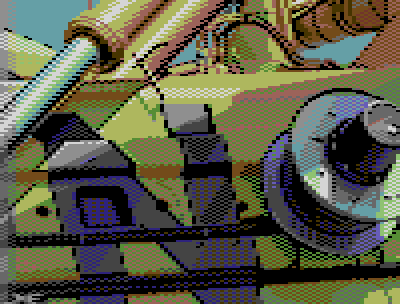 Eddie (aka Ed) and James (aka Joe) Svärd are creative 8bit veterans and twins. Responsible for a strong presence in the Commodore 64 demoscene in the name of Wrath Designs by organising and being the core engine of this Swedish team. Yet more importantly; creating a creative soil and surrounding for their group to work with.
After joining Wrath Designs, Eddie, James and their team mates managed to put their group next to the mainstream heroes within just a few years, which takes a lot of talent and discipline. Instead of walking the 'easy path' of fame, they didn't take the proven demoscene formulas for granted, but focussed on their own style.
That's where their really interesting work started to surface the demoscene. By this time, their technical skills had grown into professional proportions, giving them that extra bit of freedom to experiment.
Courtesy of Soviet (1994)

Their biggest mainstream success. A lot of well crafted Boris Vallejo art, and other fantasy artist graphic conversions, with some highlights of 'fractal-generated' flowers and James's graphics. It was celebrated as one the top productions of its time.
However, after this demo, Wrath Designs as a collective had an unproductive period. It wasn't until 96 that they grasped on to a new way of working, which paid off in strong productions. The first signs of leaving the mainstream path would be Eddie's the core of acid, The berserk trip and Kärnkraftverk among others. With a remarkable music demo Disco Calculi as a fruit of their renewed way of working.
Disco Calculi (1997)

Disco Calculi shows how off grid they were compared to the demoscene standards. Earlier signs of these aesthetics can be seen in some releases prior to this one, yet not applied by the standards they managed in this performance. This audio visualisation has a rude taste of their future productions. Embracing the rawness/limitations of the Commodore 64, expressed in both graphics and audio.
A quoi ca sert? (2001)

It seems their studies in both visualisation and audio are harvested in this production. This demo is illustrated with drawings by James of his ex-girlfriend 'Anna' and the soundtrack by Eddie.
Though working together since ages, both Eddie and James have a solid solo production output. Rarely ending up in a demo however, they both publish smaller works of art. James being the visual artist and Eddie doing both audio and programming. Their profiles on CSDB has a long list of publications, some of which we surface below.
James's visual experiments have a strong focus on patterns colours and often the returning industrial theme. Operating in the demoscene, but not influenced by the general taste of the demoscene. He set his own course around the middle of the 90ties, when he was about 18 years old. He had mastered great skills in pixeling and had a perfect base to work with.
Graphics from in Courtesy of Soviet (1994)
Fantasy art themed graphics from James's earlier days, showing a solid set of skills.
L'Encyclopèdie Géométrique – Last Dance / Portrait series (1999/2000)
Very characteristic pixel work in this series. On the edge of digital generated patterns. These images show a very strong handwriting.
A recent series in the line of his industrial work. Made for a Commodore 64 digital magazine (Vandalism News), where both brothers are partly responsible for. It shows almost mathematical pattern styled 'dithering' and a great choice of colours.
Eddie's music is something completely unique in the C64 scene, with no other musician coming close to his sound. His is a completely fresh approach toward the SID chip a greater interest in exploring its aural uniqueness than in making it sound like something else, which has been and still is the norm in the rest of the scene. The result is best described as IDM, glitch) or even industrial, perfectly tuned to the medium.

Radient Turquoise (1997)
A steady beat over an intriguing texture of sound. Just enough hints of melody surface to pique the listener into a state of actively trying to deconstruct the tune, only to fail thanks to the technical excellence of Eddie's composition.

Severed (2001)
A wonderful play on melody and rhythm.

Blizzy (1997)
Evolving a simple melodic pattern into something larger, reminiscent of what Martin Galway did in Parallax, in turn inspired by Mike Oldfield. This tune takes a more playful route though, and is ultimately cut short before Parallax would even have begun.

Questions & answers.

[8bit today] James: You're studying architecture, how does your c64 work, often inspired by architecture and mathematical patterns, find its place in your new profession? How are they related for you?

[James] The inspiration for the c64 art is various and from a large span of low and high culture and usually not only from one discipline. In the studies in Architecture is basically the same. The relationship with my c64 art and Architecture could be said to be economical, spatial and social. Economic in the sense that I try to find ways of getting down to a clean result, taking away the excess and getting down to the essential of the intention. Spatial as it's a matter of composition of the well known format we use, and social in the sense that images can express intentions, subjective emotions or general statements/discoveries.
Usually in Architecture you have a certain amount of categories which gives a project its richness, like Leone Battista Alberti wrote that a building should be like a small town, and the town like a big building. These categories are found everywhere as qualities of how spatial relationships work together; the square, the street, the gateway, the courtyard and the staircase to which the building is connected. The qualities can't be expressed simply by the looks of these categories since we know that a street could be a building, just waiting to be expressed as such with all the fixture underneath (water, electricity and plumbing) and neither can a park be described roughly as green outdoor space, rather it's usually treated as a building in itself, with roofs (trees) or simply without roof to get air and light. Architecture is really about the context of the built and the situations and potentials it has in the surrounding and something which we all can relate to as we have always lived in a physically designed environment. In Art it's no different really.
When it comes to detailing in Architecture it reminds of Art. Form and shape is scale dependant and by practical reasons space needs articulation at the edge of transition from one thing to the other, may it be earth, sky or the border of two surfaces meeting in plane on a canvas. In c64 art those meetings are usually articulated with the simplest method in anti-aliasing the transition to make things look soft. As for my c64 art I was intrigued of finding new methods in dithering and overlapping surfaces to get different grain, textures and materiality. It's still dead flat in the end and the material is electronic so the problem still is different than painting in oil, creating collages or using the pen.

[8bit today] Eddie: Do you set out with a vision when you start a new composition, and if so, how close to this vision do you usually end up?

[Eddie] My music often comes from the process of trying to find specific characteristics of the sounds where I work towards a composition. I don't generally have a clear idea of what it will sound like in the end, but I would not say I have escaped the conventions of style.
Sounds have specific quality that gives rise to a whole set of associations, where of course style plays an important reference point and as a base point to begin. Sometimes I work towards finding the qualities of the sound and bring out what I feel is the theme but I am equally disrespectful at times.
The reason why most of my works have specific loop structure is that my songs are often sketches of ideas, remains of performances and the like, where I simply lift out patterns I like and store them as separate songs. This is also necessary way for me to work as slight changes that give birth to new projects.
I often go back to previous work. This is not in any way a way for me to escape the burden of sketching out a completely new composition but rather a way for me to further investigate the sounds I once made and what use I still might have for them.

[8bit today] James: You often work in series, yet these do not always relate in a very visual way, instead they do in the approach. How does your creative process work for you?

[James] I usually come across a notion of something I want to express, memories or fantasies or reflections of inner and outer self which I work with for quite some time in different images. Lately it has been contemplation and self-reflecting on the images (copies) I made 14-15 years ago. I have built a repertoire which I can freely start from and use in my images.
It could be about mixing colors to get color-scales which at one distance look in a certain way. Or it could be about the play with layers, where I can set the depth of the image not only by traditional perspective and vanishing points or juxtaposition color in the chromatic/luminance but as a way of projecting/superimposing textures in sections. It is also about the obsession of shapes and patterns where the photographic references are treated as abstract material for composition: Angles, relationships, repetition, overlapping and shadows.
For each project I try to be deciding as soon as possible what it wants to be. Usually I never have the time to let the process take me as far as in my architectural projects. Most of the process and try-outs is carried through in Photoshop where I can turn on and off layers or use the Wacom board to draw something again, back in the days I carried out most of my work directly with Drazpaint or Cenimate on the real machine. I am gradually growing a restless attitude towards my own work and I tend to be satisfied /bored quickly and rather leave things at the current to jump on the next thing (which describes the flaw and dirt you find in my images). Although I don't see technique as an end-mean it's still one of the things I've experimented mostly based on on/off real-life ways of handling texture and gradients. As for the images and the references have been (mostly) my own the last 12 years from paintings, texts or photographs.

[8bit today] Eddie: Can you name some contemporary artists (musical or other) who inspire you?

[Eddie] At the time being I am not really into anyone, it's more what catches my eye.
I like the Michel Gondry's approach in his movies where recreating as a part of the story, often results in lesser detail and a twisted (and retard) touch to it (high concept movies goes student theatre, dream landscapes are made of toilet rolls rather than memories, etc).
Quite recent I saw the Thomas Demand exhibition in Berlin and it was very interesting to see how he has worked with minute detail of folding different paper in order to create the illusion of realist images with a photographic touch. Something which have both required a lot of patience and clearly investigations of a scientific nature.
Musically I have been inspired by the Intelligent Dance Music scene of the 1990s and early 2000s, but just as much else in life you grow tired and try to find something else. I usually go back much to my own stuff and start from there, or let the work of the group members inspire me.

[8bit today] Eddie & James: What are your plans for the future, as a team and individuals?

[James] As a team we have had some interesting experiences in working with other people outside of the group, to try out different ideas which might have certain aspects in our thinking. One of the most fruitful has been the demos we've made together with K2. This is something which we both want to continue as we are not interested in the static but rather the dynamics in group work. As for our own production, I think we have reached a point where the body of work of a tradition has become much more clean and simplified than before.
I will continue my experiments, which hopefully inspire people to do their own investigations in the field of c64 art, not only for my own group but for others as well.

[Eddie] I plan on finally getting my Masters degree in Art History/Visual Culture and a stable job. Scene wise we are planning on taking Vandalism News to a new level and to do some more cooperation demos with K2.
_
Check out James and Eddie's profile on CSDB for their work.
To view these files, download a Commodore 64 emulator for PC or for MAC.
_
And as a small extra a few screenshots from their latest edition of Vandalism News.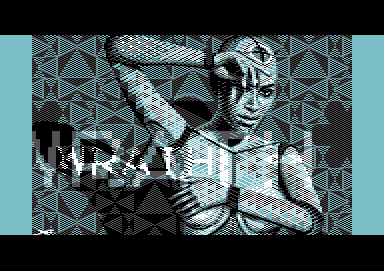 Thanks to Martin and Zenda for help on this article.