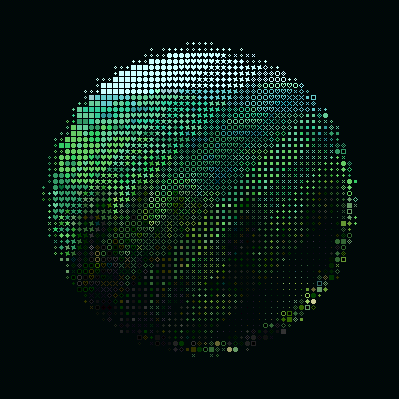 Delaware is an art collective from Japan. Their work covers the wide range of fields from cross stitch to installations to live performances. They refer to themselves as 'Artoonists', a combination of Art and Cartoon. Working from the simplicity of the square as a fundamental part of thinking, nobly aiming at impressing the viewer. The collective, formed in 1993 by Masato Samata, has had a great track record and a number of exhibitions with different projects. In 2004 they published a wonderful book by the name of Designin' in the Rain.
I tend to think that because of the early mobile phone and gaming culture, the pixel graphics has been part of the visual culture for years. Japan was the first country to have I-mode, introduced already in 1999, and Japan has been known for their strong gaming culture for decades. The limitations of the I-mode devices, small screen and slow processor, forced to take 8bit measurements. Laying a fertile ground for 8bit inspired art to grow on.
Seamless how they succeed in mixing various lo-fi aesthetics, sometimes combined with music and text, into unique pieces. If you look close you can see traces of ASCII, pixel art and maybe even ANSI. Working from their own defined 'Bi+map' philosophy, it shows to be an interesting way of bringing lo-fi limitations to the fundaments of your process. One could think it's related to traditional japanese art forms, in the aspect of stripping something down to its spirit. A quote from wikipedia on this: "Japanese art, valued not only for its simplicity but also for its colorful exuberance".
Looking at their series Bi+map and Popcorn, they reveal their philosophy in a highly affecting way.
Note: Click on the thumbnails, to see the artwork in full glory.
And some Bi+map animations. Click on the images to see them.
Delaware was so kind to answer some questions:

[8bit today] Could you tell more about Delaware? Where does the name come from and how do you work together?

[Delaware]
Hardware
Software
Shareware
Freeware
Delaware
Tableware
Kitchenware
Wiiware
Delaware
Freewareware, go go go!
Delawareware, go go go!
Freewareware, go go go!
Delawareware, go!
Free, wareware, go!
Dela, wareware, go!
Freeware, ware, go!
Delaware, ware, go!
Free ware ware ware ware Dela ware, go!
*
Motto:
Game over!
When becoming serious.
*
Artoon:
Art.
Cartoon.
Artoon.
*
Solution:
Do you love fire fire?
OK, you can be a fireman.
*
Final War Rule:
If one takes another sox off, one is winner.

[8bit today] How does Bi+map work in your design process?

[Delaware]
Bi+map is the law for us.
It's like Haiku, in three metrical phrases of 5, 7, and 5.
*
Bi+map is so square.
Bi+map is not delicate.
Bi+map has no flexibility.
All the same, these are charms of Bi+map.
To make use of the weak point as a merit is minimum manners of a person who creates things.
*
Acoustic Guitar and Harmonica: Young Bob Dylan
Bi+map: Delaware

[8bit today] How is the future for Delaware? What directions do you want to focus on?

[Delaware]
iPhone/iPodTouch Application.
*
about RE<ORDS:
A Japanese independent record label that just exists in iPhone/iPodTouch.
DIY-Application.
DIY-Turntable.
DIY-Design.
DIY-Sound.
DIY-Finance.
DIY-Drink & Food.
*
1 Month, 1 Release.
*
Spec:
Sound and Vision Application. / Single record, sometimes LP record.
Picture Disc (A&B-side) / Spin, Zoom and Scratch!
If you turn over your lovely machine, you can enjoy B-side!!
*
Sales Message:
"The SMALLEST RECORD LABEL in the WORLD!"
"NEW MUSIC-DISTRIBUTION!"
"MUSIC-BUSINESS for Music Better Than Music-Business."
*
Founded: The end of 2008.
Founder: Delaware (japanese supersonic group, designs music & musics design).
Distribution: APP Store (in iTunes Store, Apple).
Genre: Handy, Spoony, Chopsticky, and Knife & Forky!?
Location: Tokyo, Japan.
*
*
app@delaware.gr.jp